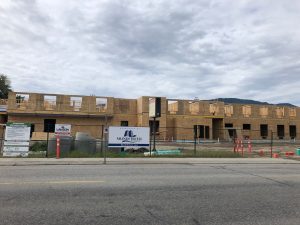 An exciting progress update from the construction site of our new Fairfield Inn by Marriott in Penticton, BC! This 98 room proeprty is coming along smoothly.
Civil work is complete and framing of the second floor is complete. Two more floors need to be framed and the roof, then electrical, plumbing and finer finishing details will start.
It is rewarding to work on a project on paper for a long time, then watch it unfold like new life! At the start of a project it sometimes feels like there is little progress – just endless meetings and editing. But it is important to keep a clear picture of the end result – we've learned that keeping a vision and focusing on the desired outcome is what brings us to successful completion of a project.
Working on the job site in beautiful Penticton, BC, is rewarding in itself. With views of the beautiful Okanagan Lake a short distance away, and the lush Okanagan agricultural bounty bursting into colour in the Spring, we are very lucky to be part of the Penticton community in the incredible Okanagan Valley.
We cannot wait to welcome guests to also share in these lush surroundings!