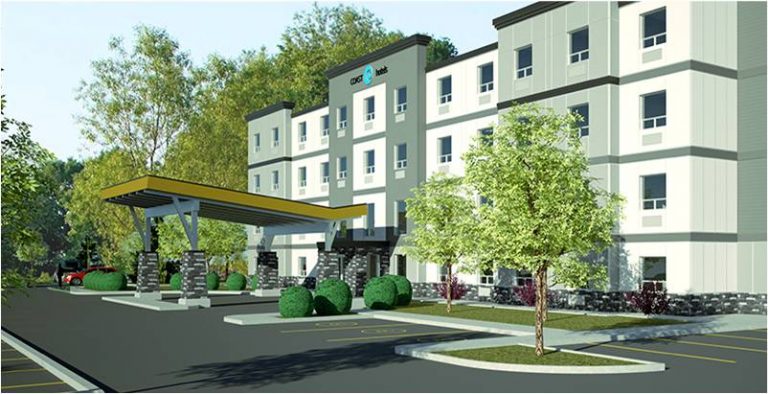 Castanet News Article, December 25, 2017.
Work on a new Coast hotel being built in Oliver is humming along as the calendar year winds down — a year that was highlighted by new facilities and other new development in the town.
"They broke ground in the second week of November and they already have most of the concrete poured," Mayor Ron Hovanes said in a year-end interview with Castanet.
The 80-room hotel being built on Fairview Road, the former site of the Centennial RV Park, will be the first full-service hotel in Oliver — something the town has wanted to attract for more than a decade. The hotel development follows other recently-completed developments that have been economic drivers in the region, including the Area 27 racetrack which held a formal grand opening on Jun. 4.
"We've had all kinds of business generated because of people who come up here with these cars," Hovanes said.
Another driver is the $200M Oliver Correctional Centre, which is about to complete its first full year of operation.
The facility, also on OIB land, has created about 300 jobs for the town of roughly 5,000 people.
"It's been huge for our community. Everything from enrolment numbers into our schools, to people buying homes and having young people move to town," Hovanes said.
Evidently, more building has been going in Oliver across the board this year.
The town's building permit value to the end of November was more than $15.2M. Construction of new homes has accounted for almost 90 per cent of that value.
"Our housing starts this year are as big as they've as ever been," Hovanes said.
He added that Oliver has been "given the opportunity to grow" this year, more than most years, and credited the economy and the success of the Osoyoos Indian Band as driving factors.
"I'd like to think that as a council… we've been setting the table in Oliver for those who want to come here to work, to retire or to invest. We've done our best to make it an attractive place for people to put roots down."
In the growing community, public safety has been an area that the town has begun long-term planning for.
Hovanes said Oliver expects to be at a population over 5,000 by the next national census in 2021, which would trigger the municipality paying for 70 per cent of RCMP costs — a significant jump from the 30 per cent the town now pays.
That would translate to an extra taxpayer cost of about $600,000 per year, according to town staff in Oliver, which has forced the town to begin planning now for how to handle the cost leap.
The new prison, meanwhile, has had usual prison problems. In the first 11 months of 2017, there were 76 reported incidents involving contraband drugs and 15 incidents involving contraband weapons. Three inmates have also sued the prison.
The regional RCMP detachment is in the process of trying to bring two more provincially-funded officers to the prison.
"The (police) files that are being generated in the rural area, which includes the corrections facility, are being monitored very carefully," Hovanes said.
"We work hard at having a safe community, and going forward we hope that we continue to be."